Have you ever heard of ways to make money on Pinterest? No? Are you sure? If you thought Pinterest was just a platform for saving inspiring recipes, dreamy travel destinations, and DIY craft ideas, think again. It's time to flip the script and unlock the hidden potential of this visual wonderland.
Today, we're about to embark on a thrilling journey to discover the myriad of ways to turn your pins into profits. From budding entrepreneurs to seasoned online marketers, Pinterest has something for everyone. So, grab your digital sketchbook, and let's explore the brilliant and often untapped ways to make money on Pinterest. Get ready to turn your hobby into a hustle, your passion into profit, and your pins into prosperity. Let's dive in!
You might also like to read Top 10 Ways to Make Money on Instagram in 2023
Top 9 Ways to Make Money on Pinterest
Pinterest at present has more than 430 million users from across the globe. Despite the popularity of other social media platforms, the hype and love for Pinterest haven't declined.
The opportunities for individuals, influencers, and businesses to collect revenue are endless. You can turn your Pinterest account into a valuable tool for driving leads, generating sales, and creating brand awareness.
Bloggers, e-commerce businesses, brands, and entrepreneurs can greatly benefit from the platform's potential to drive sales and generate revenue streams. If you haven't thought of making money on Pinterest lately, now might be the right time to utilize the popular visual directory to earn money online. So what are you waiting for? Let's start and pave the path towards financial freedom from your smartphone screens.
Scroll down and learn practical and proven ways to make money on Pinterest and generate a steady source of income from the comfort of your home.
Send Traffic to Online Products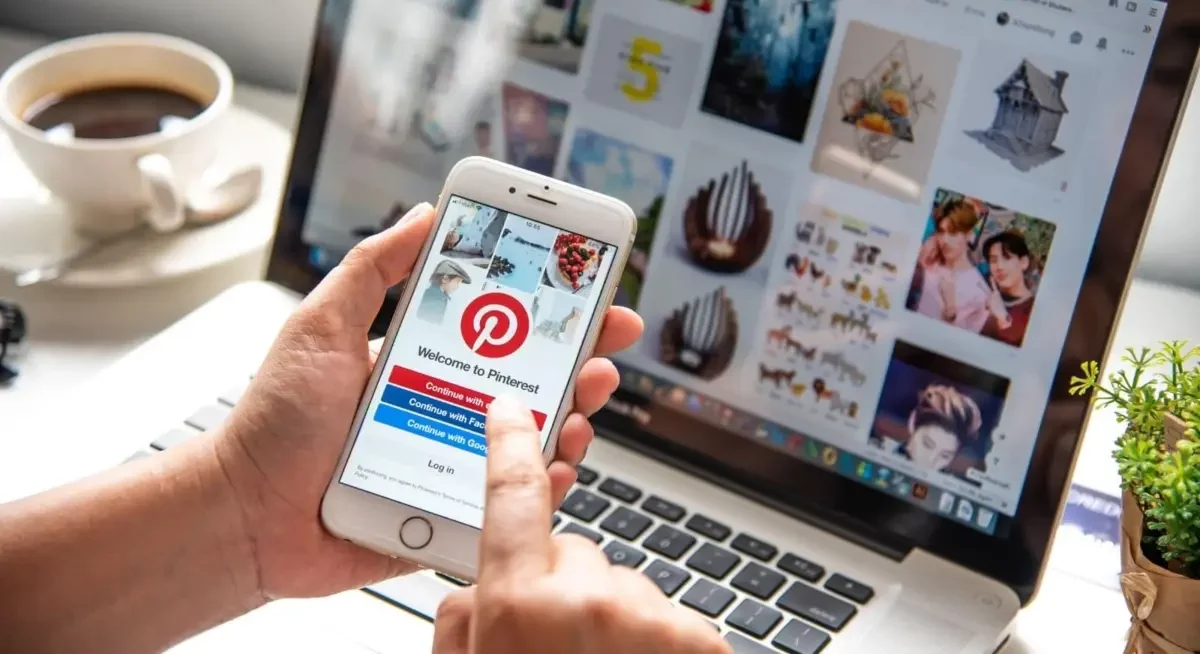 Generating traffic to your e-commerce products is a promising avenue to make money on Pinterest. As a visual discovery platform, Pinterest compellingly excels at showcasing products. You can tap into Pinterest's massive and engaged user base by creating visually appealing and informative pins for your e-commerce items and linking them directly to your product pages.
Effective use of keywords and optimizing the pin descriptions enhance the discoverability of your products in Pinterest's search results, attracting users actively seeking items like yours.
As users click through your pins to explore your e-commerce store, you have a prime opportunity to convert visitors into customers and drive sales, turning Pinterest into a lucrative sales channel. With consistency, strategic pinning, and the right products, you can capitalize on Pinterest's unique strengths to boost your e-commerce revenue and transform your pins into profits.
Create Rich Pins
Also, remember to include rich pins when attempting to drive traffic to an e-commerce platform. Rich Pins are a unique feature on Pinterest that provides additional information and context about a pinned item. They are designed to make Pinterest a more informative and engaging platform for users, particularly for businesses and content creators.
Rich Pins stand out with bold titles and an enhanced user experience, providing users with valuable information at a glance.
To implement Rich Pins for your website or blog, you must add specific meta tags or structured data to your content, ensuring that Pinterest can extract and display the relevant information.
Affiliate Marketing on Pinterest
Affiliate marketing is a potential way to make money on Pinterest by promoting products or services from other businesses and earning a commission for each sale or action generated through your referrals.
To get started, you would first sign up for affiliate programs or networks relevant to your niche or interests. Once accepted, you can create engaging pins that showcase these affiliate products or services, adding your unique affiliate link.
Creating pins for affiliate partnerships can be a lucrative way to make money on Pinterest. By designing visually appealing pins that promote products or services as an affiliate, you can tap into Pinterest's massive user base and drive traffic to your partner's offerings. These pins should be enticing and provide value to your audience, highlighting the benefits of the products or services you're promoting. You earn a commission when users click on your affiliate pins and purchase or take a desired action.
Leveraging Pinterest's reach and search capabilities, you can attract a targeted audience interested in the products you're promoting, potentially leading to higher conversion rates and increased affiliate earnings. With consistent pinning and strategic promotion, you can turn your affiliate partnerships into a profitable income stream on Pinterest.
Things to Remember
Here are a few things that you should keep in mind when attempting to make money on Pinterest through affiliate marketing:
Choose Relevant Products: Promote products or services that align with your niche or audience's interests for higher click-through and conversion rates.
Create Engaging Pins: Design eye-catching and informative pins that effectively showcase affiliate products, highlighting their benefits and solving user problems.
Disclose Affiliation: Be transparent and honest with your audience by disclosing your affiliate relationships, fostering trust and credibility in your recommendations.
Generate Traffic to a Website
Pinterest is a powerful platform for bloggers and marketers to generate website traffic by harnessing its visual and discovery-focused nature. Most users on Pinterest seek ways to learn something and find inspiration for a project. By creating captivating and informative pins related to their content or products, you can pique the interest of Pinterest's vast user base and turn them into meaningful traffic to your blog/website/e-commerce business.
Optimizing pins and boards with relevant keywords and hashtags improves discoverability, increasing the likelihood of users finding and clicking through to the website. Pinterest's highly engaged community encourages re-pins, which can create a snowball effect, further expanding the reach.
Consistent pinning and engagement with niche-related users contribute to steady growth in web traffic, potentially converting visitors into loyal readers or customers and ultimately driving the success of bloggers and marketers.
Helpful Tips to Grow Traffic through Pinterest
Here are some tips to help you grow your web traffic through Pinterest:
Optimize Your Profile: Create a business account, use a professional profile picture, and write a compelling bio that reflects your brand or website.
Quality Pin Creation: Design eye-catching, high-quality pins with clear images, readable text, and branding. Vertical pins with a 2:3 aspect ratio tend to perform best.
Keyword Optimization: Use relevant keywords in pin descriptions, board titles, and board descriptions to enhance discoverability in Pinterest's search. It's recommended to use Pinterest Trends to discover trending keywords among users.
Pin Consistently: Regular pinning keeps your audience engaged. Use a scheduling tool to maintain a consistent pinning schedule.
Create Descriptive Boards: Organize your pins into thematic boards with informative titles and descriptions. Be specific to attract your target audience.
Utilize Rich Pins: Implement Rich Pins (product, recipe, article, app) to provide additional context and increase the chances of users clicking through.
Engage with Others: Interact with other users by re-pinning, commenting, and following users in your niche. This can help you gain followers and increase your visibility.
Track Analytics: Regularly review your Pinterest Analytics to understand which pins and boards are performing well and adjust your strategy accordingly.
Promote Your Pins: Consider using Pinterest's paid advertising (Promoted Pins) to reach a wider audience and boost traffic quickly.
By implementing these tips and maintaining an active presence on Pinterest, you can grow your web traffic and drive more visitors to your website or e-commerce store.
Drive Traffic through Paid Ads
Making money on Pinterest by driving traffic through ads can be a viable strategy, particularly for businesses and e-commerce sites. Pinterest offers Promoted Pins, which can help increase your content's visibility and attract a more extensive, targeted audience.
Investing in ads can be worthwhile if you have a product or service that aligns with Pinterest's user base. The effectiveness of Pinterest ads depends on your niche and target audience. If your product or content resonates with Pinterest's primarily female, creative, and lifestyle-focused user demographic, it's worth considering.
To determine its value, start with a small ad budget, test different pins and targeting options, and monitor the results using Pinterest Analytics. If you see a positive return on investment and increased web traffic or sales, scaling your ad spend could lead to significant revenue. However, creating engaging and relevant ads to make your investment worthwhile and ensure that Pinterest aligns with your business goals and target audience is crucial.
Join the Pinterest Creator Fund
Joining the Pinterest Creator Fund can be a lucrative opportunity to make money on Pinterest, especially for content creators. This program allows creators to monetize their presence on Pinterest by creating inspiring, high-quality content that resonates with users.
Creators can receive compensation based on their content's engagement, including the number of views, clicks, and shares. By consistently producing engaging and relevant pins that align with their niche or interests, creators can tap into Pinterest's extensive user base and potentially earn a consistent income.
The Pinterest Creator Fund incentivizes the creation of valuable and attractive content, fostering a mutually beneficial relationship between content creators and the platform as they leverage their skills, creativity, and audience engagement to generate income.
Incorporate Product Pins in your Pinterest Boards
Creating product pins for your products is a potent strategy for monetizing Pinterest and increasing revenue. Shoppable pins allow users to browse and purchase products directly through Pinterest, streamlining the customer journey and enhancing convenience.
Most users on Pinterest report that they are always shopping for new stuff and looking for unique things to buy.  By featuring your products in shoppable pins, you tap into Pinterest's massive user base and cater to an audience actively seeking inspiration and shopping opportunities.
The seamless integration of your product listings and the visual appeal of shoppable pins can drive higher click-through and conversion rates. This boosts sales and expands your customer base, potentially leading to repeat business. By leveraging product pins effectively, you can turn your Pinterest presence into a lucrative sales channel and significantly impact your bottom line, making money on Pinterest a reality for your business.
Create Sponsored Content for Brands and Businesses
Creating sponsored content can be a lucrative avenue to make money on Pinterest by collaborating with brands or businesses. By partnering with organizations that align with your niche or interests, you can generate income by developing and promoting pins that showcase their products or services.
Sponsored content typically involves creating engaging, visually appealing pins that resonate with your audience, effectively integrating the brand's message or offerings. These sponsored pins can reach a broader audience, as the sponsoring company often promotes them. They can increase engagement and traffic to your website or affiliate links.
Creating sponsored content allows you to monetize your Pinterest influence and content creation skills, turning your passion and presence on the platform into a revenue stream.
Pinterest's Paid Partnership Tool
Pinterest has an advanced Paid Partnership Tool, making it easier for brands and influencers to partner and create sponsored content.
To begin, create an Idea Pin in the Pinterest app.
Now hover over the advance settings tab and check the "Add Paid Partnership Label."
You can now select the "Add a brand partner" option to add a business you want to partner with.
A request will be sent to the brand for approval after you publish the pin.
A "paid partnership" tag will appear on your pin without the brand's name.
After the brand approves the tag, their name will appear on your pins.
Create Idea Pins and Video Content to Promote Products
Idea pins and video content Pinterest are valuable assets to make money on Pinterest by engaging your audience and driving traffic to your website or affiliate products. Idea pins offer an interactive, story-telling format that can creatively showcase your expertise, products, or services.
They allow you to establish yourself as a niche authority and generate interest in your offerings. Video content, in the form of engaging short videos or tutorials, can go viral on Pinterest, expanding your reach and increasing the likelihood of users clicking through to your website or affiliate links. By consistently creating and promoting idea pins and video content, you can effectively drive traffic, which can translate into affiliate sales, e-commerce revenue, or ad revenue, allowing you to monetize your Pinterest presence and make money on the platform.
Handle and Manage Other Accounts
You can make money on Pinterest by managing other people's accounts through social media management services. By offering your expertise in Pinterest optimization, content creation, and engagement strategies, you can assist businesses or individuals in growing their Pinterest presence.
This includes pinning consistently, designing eye-catching pins, implementing Pinterest SEO, and engaging with their audience. Charging a fee for your services can be a profitable way to monetize your knowledge and skills, significantly if you can demonstrate a track record of successfully increasing Pinterest engagement, website traffic, and revenue.
By managing other people's Pinterest accounts effectively, you provide them with more time to focus on their core business activities while offering a valuable service that can result in a steady income stream for you.
Final Thoughts
In conclusion, there is a diverse range of opportunities to make money on Pinterest, making it a dynamic platform for entrepreneurs, content creators, marketers, and influencers.
From affiliate marketing and selling products to promoting sponsored content and utilizing paid advertising, Pinterest's visual and discovery-oriented nature presents various avenues for revenue generation. Successful monetization on Pinterest often hinges on consistent, high-quality content, understanding your target audience, and strategic promotion.
As you leverage its unique features like Rich Pins and shoppable pins while staying attuned to Pinterest's evolving best practices, you can turn your pins into profits, transforming your online presence into a source of income and driving your financial goals.
FAQs
Can I make money on Pinterest?
Yes. You can make money on Pinterest through affiliate marketing, selling products, brand sponsorships, and several other ways. All you need to do is post engaging, captivating, and unique content to attract followers and provide them with something exciting and valuable.
Can you get paid on Pinterest?
Pinterest does not directly pay users for creating boards or pinning posts on their accounts. Nor does it pay users with a considerable following. However, there are ways in which you can monetize your Pinterest account and form partnerships with brands and businesses to make money online.
How many followers do you need to make money on Pinterest?
Your number of followers on Pinterest does not determine how much you can earn. However, one should have a minimum of 1,000 followers on Pinterest to generate money through affiliate marketing.
Can you make money on Pinterest by posting pictures?
Pinterest is all about creating boards, posting pictures, and pinning posts. While Pinterest does not pay money to post pictures, you can join with brands and earn sponsorships for posting pictures on your account. You will then earn commissions from the sales made through the links you share via pictures on your Pinterest boards.
Also read: 9 Best Ways to Make Money on Youtube in 2023