The ridiculously famous Expo City Dubai is back and it's back for the good. The destination opened its gates to the public on the 1st of October, 2022, 6 months after the closure of the Dubai Expo 2022. All residents and tourists are allowed free access to the venue with lots of free family-friendly activities and leisure experiences for everyone visiting.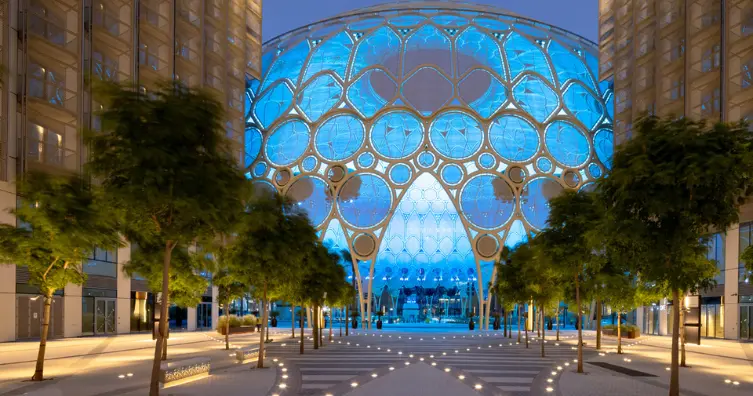 The trailblazing city is now home to eateries, pavilions, and fun activities for people of all ages. This latest Dubai community is attracting tourists and residents from across the country and is the new leisure spot the emirate has to offer.
You may be quite inquisitive to know what's happening inside as the Expo event is now over. Let's dive in to know more about the free things to do at the attraction.
Free Stuff in Dubai Expo City
While the destination has many free activities for kids and adults, not everything is entirely free. You can enter for free and may pay as you go for food, drinks, and experiences. At present, the futuristic city has set up four pavilions including Alif, Terra, Vision, and Women's. There is a small fee to be paid for entry to the pavilions or you can also buy a day pass to access all four pavilions for free.
Here is a quick guide to free stuff in Dubai Expo City that you can do and experience with the family. Plan a fun day with your loved ones and enjoy it to the fullest without having to pay a bit over the odds.
View this post on Instagram
Splish and Splash at the Outlandish Water Feature
The most spectacular of all things to do at the Expo City is the floating waterfall. This was the most noteworthy thing the Dubai Expo had to offer and it's now back with a bang. You can experience the mesmerizing expo waterfall for free and play with kids and friends for as long as you may desire. You must have seen the water falling and splashing on the visitors an unlimited number of times on social media handles. It stirred quite a lot of frenzy and drew huge crowds during the expo exhibition earlier in the year.It's a must to do thing at the Expo City for which you do not even have to spend a single dirham.
View this post on Instagram
Relinquish your calm at the Kids' Playgrounds
The children's playgrounds are now open and can be accessed anytime between 2 pm and 10 pm. The playgrounds that you can visit for free include the Sustainability Pavilion, Rashid's Adventures at Jubilee Park, Latifa, Space City at Al Forsan Park, and Adventurous Octopus at Terra. Entry to all the play areas is free and you can spend a good day exploring all five of them.
Ride on the Expo Explorer Train
Expo City Dubai is a huge attraction and is spread across acres. You can ride on the Explorer Train to move to and from different attractions inside the venue. The ride would be a fun experience for all the little ones in your family. Ride on the Expo train and take a tour of the site totally for free.
Enjoy your train ride with a tour guide from 10 am till 4 pm or take a tour without the guide from 4 pm till 6 pm.
Discover and Explore on Taxi Buggies
Besides the train, you can also hop over to the Expo City Taxis and Buggies to get around the location and visit different pavilions, play areas, restaurants, and attractions. It's a great advantage for families who just cannot afford to walk through the vast venue with their kids. There is no cost to be paid and you can travel in a taxi for free at the moment.
Watch the Al Wasl Projection Shows
Al Wasl Dome is undoubtedly the most talked about attraction at the Expo City. It drew huge crowds with its action-packed shows during the Dubai Expo 20202 and is now all set to attract visitors to the Expo City. The surreal projection show lights up the gigantic Al Wasl Dome located inside the main plaza.
Four shows are scheduled to mesmerize the audience every day from 6.15 pm to 11 pm. Entry for all the shows is free and we vouch you shouldn't miss out on this.
View this post on Instagram
Explore the Winter City
Expo City Dubai has transformed the Al Wasl Dome, Water Feature, and mobility district into a stunning winter city with festive décor and themed activities planned for both young and old. Winter festivities will continue till the 8th of January allowing free access to all visitors.
View this post on Instagram
Free Water Refills
Refill your water bottles as many times as you like from water dispensers located from nook to nook at the venue. You need not spend money on the water as the venue is offering safe, filtered, and clean water for visitors that too for free.
View this post on Instagram
Stay Connected with High-Speed Wi-Fi
Free high-speed Wi-Fi connectivity is available all over the Expo City. Sign in and connect to the free Wi-Fi spot to snap and post pictures as you go.
Free Rental Bikes and E-Scooters
To go around the destination with ease, you can rent bikes and electric scooters for a smooth and seamless ride. The first ten minutes are free when you use the code TIER-EXPO.
View this post on Instagram
Free Titbits for the Pets
Expo City Dubai is a pet-friendly attraction with dog stations installed at various locations across the venue. Get your dog some water and eatables for free.
View this post on Instagram

Timings: 8.30 am to 11 pm from Sunday to Thursday and 8.30 am to 1 am on Friday, Saturday, and public holidays.
A few attractions including the Water Feature and the Al Wasl Dome Plaza remain open every day 24/7.
Parking for the Expo City Dubai is free. You can park your vehicle for free for hours on the site without having to shell out money.