Ever thought playing a game or making predictions about your favorite team can help you make money? Good at predicting football match scores and want to try out luck with Noon Golazo? Well, you can now monetize your guessing game and earn money by predicting scores. Win instant rewards and double the fun this game season.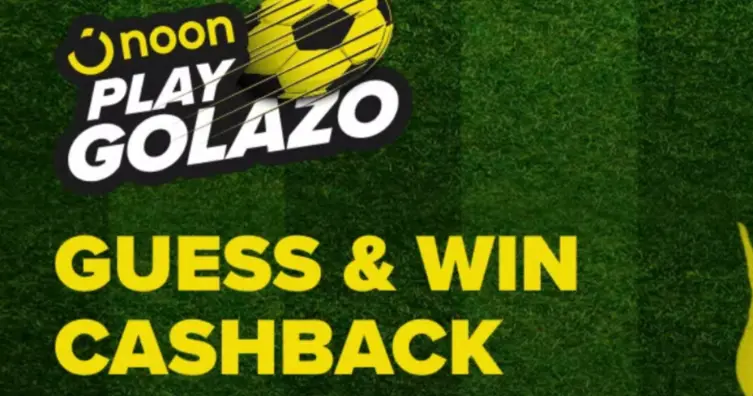 Retail giant Noon now offers all the football enthusiasts in UAE to play and win big.  It has launched Golazo, an interactive guess and win gaming app for football fans across the country. Predict winners and scores in the FIFA World Cup 2022 matches with the app to win exciting cash rewards and monetary incentives.
Ramp up the football frenzy and get the game rolling.
How to predict and earn cashback with Noon Golazo?
With Noon's free mobile application, you can now play and predict to win rewards and cash. Access the app through Noon App and start playing to take part in the prediction game.
It's outrageously easy to play with a user-friendly interface. Predict the scores and winner of every match being held in Qatar and if the guesses you made turn out to be right, you will be entitled to win a cashback.
In case your predictions turn out to be wrong, there is nothing you could lose and you can start all over again.
The winning amount will be deposited into your Noon Wallet in the form of credit points. Redeem the points when making a purchase at noon, Noon Grocery, Noon Minutes, or Noon Food.
You can even win an AED10, 000 exclusive prizes if you make your way up to the top 10 scorers on the scoreboard.
How to play the prediction game on Noon Golazo?
First things first. Scan the QR code to download the application.
Sign in to your Noon App and tap on the Noon Golazo icon.
Choose the game you would want to predict and select the score. Proceed further by tapping on the "submit" button.
You can change your prediction any time before the match begins.
Collect trophies and unlock exclusive cash prizes and rewards.
You can also invite your family members and friends to join and play the game.
Game Rules
If you guess the exact score, you will earn 10-noon trophies
You will win 1 trophy if your prediction about the winning team turns out to be accurate.
Rewards to be won
You can play as many games as you like to win more trophies. The more you play the more you win.
More trophies mean a larger amount of cashback to be earned
The top 10 scorers on the Golazo G.O.A.T. scoreboard can win an exclusive prize of AED 10,000 when the World Cup ends.
The top 3 scorers on the scoreboard will get an officially signed Newcastle United 22/23 jersey.
All winners will be announced at the end of the FIFA World Cup 2022.
Terms and conditions apply
Visit Noon to download the app and start winning.
You may also like to read
8 Ways to Win Free FIFA 2022 World Cup Tickets