With extravagant hotels, upscale eateries, top-notch international brands, and luxury resorts on its back, Dubai is always bustling with tourists, visitors, and residents alike. While shopping at Dubai Mall can be quite burdensome, there are plenty of ways to save when shopping in the city.
Here we will bring you some insider tips to get discounts and cashback in an attempt to save money while shopping at one of the biggest malls in the region. Yes, you guessed it right. We are talking about the mighty Dubai Mall, the center of unlimited fun, incredible retail, and premiere restaurants.
Shop and Save Money at Dubai Mall
Get exclusive discounts and generous cashback when you shop at Dubai Mall with the Skywards Mile loyalty program and U by Emaar credit card. The two rewards scheme benefits the patrons every time they swipe their cards at retail stores across the mall. Shop, dine, and indulge in fun activities without burning a hole in your pocket,
Earn Miles with Skywards
Spend the money and reward yourself with Skywards Miles to save big when you fly with Emirates Airlines. Shopping at Dubai Mall gets even more gratifying with the exciting loyalty program run by Emirates Airlines in conjunction with Emaar. The partnership now allows shoppers to earn skyward miles every time they make a purchase at any brand, store, restaurant, or leisure attraction across the mall.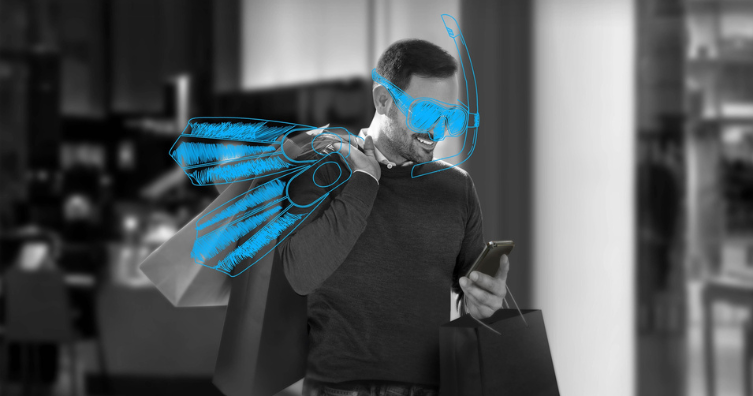 The incentive program rewards customers for spending AED 100 or more with Skywards Miles. You can earn 1 Mile per AED 3.7 if you have a Silver, Gold, or Platinum membership.
Users with the Blue membership can earn 1 Mile per AED 7.3.
The offer is valid for all the spending made across any of the stores located in Dubai Mall (including cinemas and leisure spots).
Rewards:
All Platinum and Gold members can earn unlimited Miles per month while the Silver and Blue card members can earn up to 5000 Miles per month.
Platinum members get access to The Lounge and a free car park at Fashion Avenue.
Earned Miles can be redeemed for a number of rewards including Flights, hotel stays, trips, and shopping vouchers for Emaar retail centers.
Join for free and earn incredible rewards along the way.
Get registered using Dubai Mall App
Sign up for an account by filling in your details and link up to your skywards account.
Scan and upload shopping receipts with the help of the in-built scanning feature in the app.
Each uploaded receipt should be of AED 100 or more to qualify for rewards.
All receipts should be dated within14 days from the day of shopping.
Shopping receipts worth AED 3,600 or more will get you skywards miles credited to your account within one working day.
For bigger purchases, the credit might take a bit longer.
Get Incredible Cashback with U by Emaar Visa Credit Card by Emirates NBD
Enjoy and save on shopping, dining, accommodation, and leisure activities every time you spend money at Dubai Mall using your U by Emaar credit card.
Earn 7.5% cashback as U points when you shop at any of the stores located in Dubai Mall.
Points earned can be redeemed instantly across more than 1500 stores in Dubai Mall, Marina Mall, and other Emaar-owned Retail centers.
Get 6.25% cashback on all the shopping and dining spends with free delivery services at the Dubai Mall.
Enjoy 2 for 1 offer on tickets purchased at the Reel Cinemas at the Mall with free drinks and popcorn.
Users can also avail of a 30% discount on leisure attractions including the underwater zoo, Kidzania, and the ice rink.
Registration Fees:
U by Emaar Infinite Credit card members will have to pay AED 1,500 per annum
The Signature Credit card users will pay a fee of AED 200 yearly
Emaar Family credit card users can enjoy the service without any charge.
You may also like
Dubai Home Festival 2022: All You Need To Know
Top 8 Ways to Earn Emirates Skywards
UAE Residents' Offers in Dubai that You Shouldn't Miss!
Kids eat free at these 8 Dubai Eateries!