If you have been residing in Dubai for quite some time now and own a vehicle of yours, you must be well aware of the Salik Toll system that operates around the city. While it surely does wind people up, the system was introduced to control the traffic on the city's boulevard and major roads and reduce traffic jams.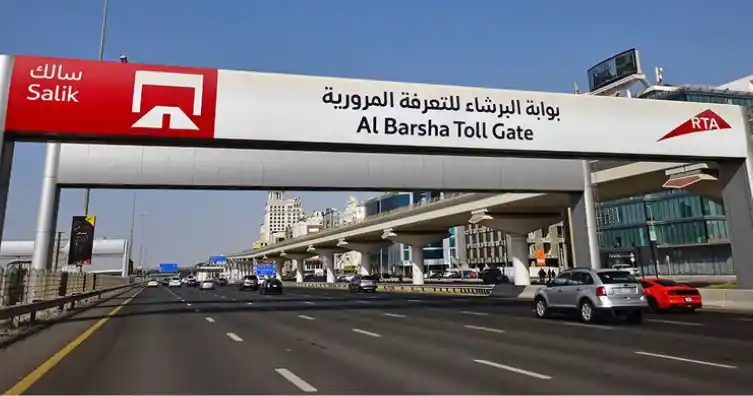 The sole aim behind the technology is to reduce drive times and minimize road congestion, especially during peak hours. Setting up a Salik account is mandatory to avoid fines when using the major roads in the city. No matter how much you cringe at the thought of paying the charges, you ultimately have to do it. Here we will bring your way informative details on how to avoid Salik fines in Dubai, auto payment solutions, and a quick guide to set up your account successfully. Bear with us and read on to find out more!
What is Salik? How does it work?
View this post on Instagram

Launched in year July 2007 by the Roads and Transport Authority (RTA), the Salik system in Dubai has proved to be an important factor in improvising the traffic and road network in the Emirate. It's an electronic toll system based on Radio Frequency Identification Technology which is designed to collect road tax from the drivers who pass through certain tolls within the city.
Every time a car drives through the Salik toll gates, the smart system charges the car owner with a toll payment that is deducted automatically with the help of a machine-readable sticker (tag) pasted on the windshield of the car. As a driver, you do not have to stop your vehicle and pay the charges when you cross the toll gates. When you ride some other person's car or use a rent-a-car service, you wouldn't be charged but instead, the owner of the car will be charged for the toll payment. All drivers and motorists must buy prepaid cards to top up their Salik accounts and toll payments will be deducted automatically from the cards.
Tips to Avoid Salik
Salik toll gates in Dubai function throughout the week without any exceptions. The system stays operational on public holidays and weekends also and there are no off-peak hours. But if you travel on the Maktoum Bridge from 10 pm to 6 am no fees are deducted. Also, the Maktoum Toll Gate is free every Sunday.
You can take alternative routes to avoid Salik fees. It may take longer to reach the destination but you will save money. Go through Al Khail road, Muhammad bin Zayed road, Emirates road, or Jumeirah road to avoid Salik fines on Sheikh Zayed road. GPS can also help you take a Salik-free route if you switch off the toll gate option on the map.
Use a rent-a-car service
When you drive in a rented car and pass through the gates, the owner of the car will be charged the toll fees and you wouldn't have to pay. Make sure your Salik account balance is always topped up with the sufficient balance. In case of no balance or insufficient amount, you may be charged with a Salik fine of AED50 if you do not credit your account with money within 5 working days.
Motorists who do not register with Salik and still choose to pass through the Salik Toll Gates may be charged with Salik fines of up to AED400.
Recharge your Salik Account with Dubai Now App
You can now recharge your Salik account online on the go with Dubai Now App. Download the app on your mobile device. Sign up and log in to your account. Select Salik from the options listed. Enter your Salik account number and PIN code. Now add the amount you want to recharge your account with. Enter the required card and payment details for a successful deposit. You will be notified about the top up and your Salik account will be updated within seconds.
You can link your Salik Account with the Dubai Now App and select the autopayment option to get your account recharged automatically when it runs out of balance. Set up autopayments so that you are never out of balance when passing through toll gates to avoid Salik fines.
Salik Toll Gate Locations in Dubai
View this post on Instagram

There are 7 Salik toll gates in Dubai installed at major bridges, roads, and highways around the city.
• Jebel Ali Salik Gate, Sheikh Zayed Road
• Al Barsha Salik Gate, Sheikh Zayed Road
• Al Safa Salik Gate, Sheikh Zayed Road
• Al Garhoud Salik Gate, Al Garhoud Bridge
• Al Maktoum Salik Gate, Al Maktoum Bridge
• Airport Tunnel Salik Gate, Beirut Street
• Al Mamzar North Salik Gate, Al Ittihaad Street
• Al Mamzar South Salik Gate, Al Ittihad Street
Salik Toll Charges in Dubai
Each Salik toll Gate in Dubai would charge you AED 4. The amount will be charged every time you pass through the gate no matter how many times you cross the gate within a single day. However, if you pass through the Al Mamzar South and Al Mamzar North gates in the same direction during a span of one hour, your vehicle will be charged AED 4 just once. All Salik Gates remain operational 24/7.
How to create a Salik Account? Step-by-Step Guide
If you have not made your Salik account yet, now is the right time to make one to avoid Salik fines and penalties. Here is a step-by-step guide to registering for a Salik account.
Registration for Salik can be done either through the Roads and Transportation Authority website or Salik's official website or Smart Salik App.
• Log on to the RTA website and select new user registration.
• Add personal details including full name and nationality
• Add contact details including registered mobile number, email, and house address
• Add your vehicle registration number and car number plate
• Complete the registration and upon successful completion, you will receive a Salik Tag on your address that you can paste on the windshield of your vehicle.
• Now you have to register your Salik account using the tag
• Visit the Salik website or use the smart Salik app to register the tag.
• Mobile number, TC (traffic code) number, and tag number are mandatory to register a Salik account successfully.
• AED 100 will be charged for the registration out of which AED 50 will be credited to your Salik account.
What is a Salik Tag?
A Salik tag is a machine-readable sticker that contains the electronic chip that is read by the scanners on the toll gates. These tags provide essential information about the driver, their identification, and their vehicle registration number so that the system can charge the tag holder when he/she crosses any of the toll gates installed in the city.
How to Purchase a Salik Tag?
Salik tags can be purchased online via the official Salik website. Sign up for an account at the website or through Smart Salik App on your Android or Apple phone. Sign in to your account and make the purchase. After purchasing the tag you would have to update important information in your account including:
• Salik tag number
• Traffic file number
• Mobile number
• Car registration number
• Emirates ID
After providing all the essential information you will receive a text message on your number confirming the activation of the Salik tag. The tag would cost you AED 120 if you buy online and AED100 if you purchase the tag through a registered seller.
Wrapping it up
Salik Toll System was introduced to improvise the traffic condition in the Emirates. The electronic toll system helps in clearing out the traffic from major roads and highways. While it may be quite infuriating to pay the fees for just passing from a road, it actually helps in maintaining the traffic flow and aids in minimizing traffic congestion on the bridges and highways across Dubai. There is no possible way to avoid Salik fines when passing through the toll gates. However, you can always choose to take alternative routes to avoid the Salik fines. It may take some extra time but you would not have to pay the fees and thus can save your hard-earned money.
Register with Salik and get your vehicle a tag to avoid hefty fines and charges when driving through the roads in the Emirate.
You may also like to read
Smart Ways to Save Money on your Car Insurance in UAE