Looking for top free beaches in Dubai?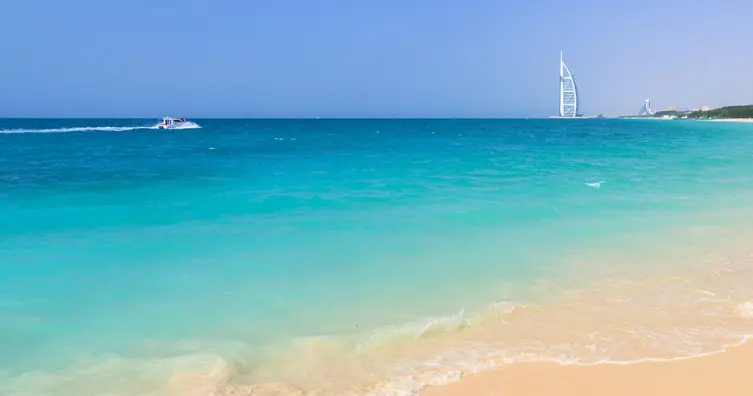 As cooler days are upon us, it is now time to finally hit the shoreline around the city. Dubai has had enough of hotter months and with September coming to an end, we could sense a drop in temperatures. There is no shortage of luxury resorts and premium beach sides in the emirate, however, there are plenty of affordable options to spend time by the sea without even spending a dirham. People in Dubai are lucky enough to dwell in a region with a bunch of fabulous beaches accessible for free. Here are some of the best free beaches in the emirate to soak up the sun and tan up by the sea.
Al Sufouh Beach

A fabulous beach with a lot of names (black palace beach, the secret beach), Al Sufouh beach is a hidden gem that many do not know of. Accessible for free, this beautiful attraction is an ideal spot for people who want to spend time in a secluded setting. The place does not get crowded at all and has some of the most stunning backdrops with the mighty Burj Al Arab in sight too.
Location: Near Dubai Media City, Al Sufouh Road, just before Hessa Street.

JBR Beach

One of the most busiest and crowded of all, the JBR beach has an undying charm for the public. With a hustling promenade at the back, the place has a lively vibe and tons of activity options for visitors. You would find a lot of sun loungers, children's play areas, cafes, bars, restaurants, and kiosks at the beach. Head over to the spot early in the evening to save yourself a spot. Enjoy stunning city views with Ain Dubai right at the front.
Location: Opposite Jumeirah Beach Residences.

Jumeirah Public Beach

Golden sand, bright blue water, and warm hue sunlight are just the right words to describe Jumeirah's free beach. The public spot is an ideal destination for those in search of beautiful views of the sea. There is a lot to do on the site with fun-filled activities and flavorful eateries nearby. Put your sunglasses on now, whip up some sunscreen, and get ready for fun times with the family that too for free.
Location: Umm Suqeim, Dubai

Free Beach at La Mer

La Mer is undoubtedly not your ordinary beachside. The place seems like a scene from a movie with a glistening blue sea, shimmery white sand, palm-fringed tracks, thatched beach huts, jazzed-up art walls, and gleaming golden lights along the pathways. There are dozens of eateries around the beachside with upscale cafes and renowned restaurants on the list. To top it all off there is a small aqua park, inflatable play area, and a retro cinema for total family fun.
Location: Jumeirah 1, Dubai

The Kite Beach

If you are looking around for an all-in-one beachside experience, Kite Beach might be the answer to your query. The place has everything suitable for a beachgoer including a jogging track, standard fitness equipment, clean Blue Ocean, golden sand, and plenty of eateries. Spend a day with family here, do some kite surfing, play volleyball, much on snacks, and enjoy the pleasant sea breeze.
Location: Kite Beach, Umm Suqeim.
You may also like to read
Head Over to Kite Beach for a Family Staycation on Budget
11 Secret Beaches in UAE: Experience the Best of Nature on Budget