It's that time of the year again. It's raining offers and discounts in UAE with black Friday sales kicking off in the country on the upcoming weekend. Originally an occasion marked in the western world, Black Friday follows Thanksgiving and provides an incredible opportunity for shoppers to skimp on expenses and stock up on their favorite apparel, accessories, gadgets, and eatables.
Brands and merchandisers in Dubai and the rest of the emirates have jumped on the bandwagon too and offer exciting deals and massive discounts as soon as the month of November begins. You would find a plethora of offers not only online but in brick-and-mortar stores as well. Grab some amazing sales on fashion, accessories, electronics, sports, kitchen, beauty, and homeware with price dipping to as low as 90%. Isn't it exciting? Read on to find more.
Best Black Friday Deals in UAE (2023)
Deals coming soon!
Best Black Friday Deals in UAE (2022)
Get ready to cough up some money and take hold of the best offers on local and international brands in Dubai. Avail of the opportunity to save money and shop for luxury products and fashion must-haves.
Let's have a look at some of the top Black Friday deals in UAE happening this year.
Amazon White Friday Sale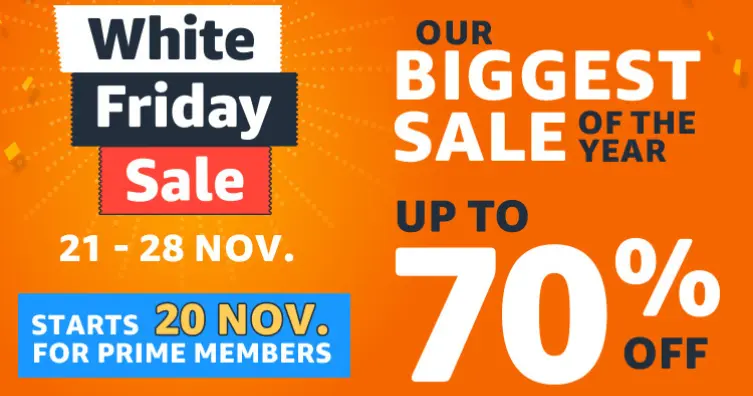 Amazon is going all out this November and is rolling out some brilliant price drops on popular categories including electronics, appliances, sportswear, toys, beauty, and more. Find top local and global brands on sale with savings of up to 70%. Slash the prices further down and enjoy discounts of up to 15% when making the payment using your MasterCard. Termed as White Friday Sale, this would be perhaps the biggest shopping extravaganza of the year. The e-commerce giant will be offering free and same-day delivery to Prime members with no minimum purchase.
Hover to Amazon to discover more!
Noon Yellow Friday Sale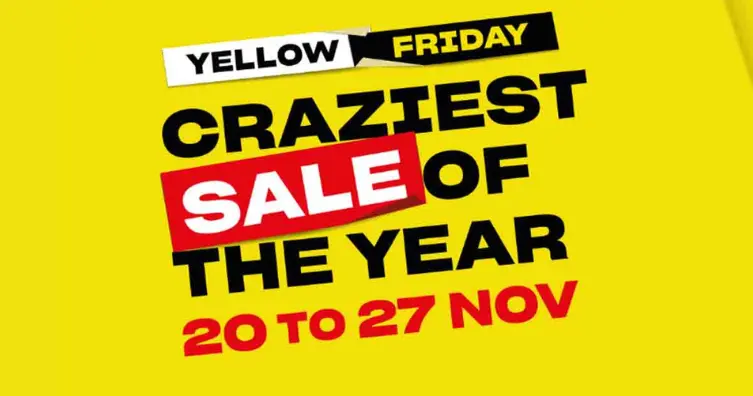 UAE's homegrown retailer is offering major deals up for grabs with Yellow Friday Sales rolling out this week. Find yourself some value deals, flash sales, and jaw-dropping price reductions on fashion, fragrances, electronics, kitchens, sports, health, fitness, and homeware.
Get 15% cashback and free delivery on all Noon express orders. Visa cardholders get an additional 15% off their total bill. You can also split your Noon bill into easy interest-free installments with Tabby and Tamara.
Mega deals await you at Dubai's go-to digital marketplace. Log on to Noon to find more.
Namshi Black November Sales
The fashion retail giant Namshi is treating its patrons with attractive deals and price drops on almost everything. Enjoy 100% cash back on every order with further discounts on various categories including women, men, kids, and home. Find popular local and international premium brands on sale including Lacoste, Adidas, Nike, Tommy Hilfiger, Dune London, Aldo, Guess, Calvin Klein, and a lot more. Flash sales are happening every day with tons of surprises for the customers till the end of November.
Emirates Islamic Visa Card holders get an additional 15% flat discount on all their orders placed through Namshi.
Enjoy free next-day deliveries on all orders over AED 100. Log on to Namshi to discover your favorite brands on sale.
White Wednesday Sale at Homebox
Homebox has rolled out an incredible home fest this November with furniture and home accessories available at amazingly low rates. Get budget deals on décor furnishings, kitchen utensils, living room furniture, and bathroom accessories at the best affordable prices. Enjoy a buy 1 get 1 free offer on almost everything along with a flat 40% off select products. Enjoy free deliveries on all orders over AED100. The timer for the daily flash sales is running out. We vouch you would not want to miss out on these. Visit Homebox today for some budget home shopping therapy.
Sephora's Beauty November Deals
Your favorite makeup store has launched unbelievable deals for November with top luxury cosmetic brands up for sale. Enjoy a flat 30% discount on makeup, skincare, and fragrances along with free gifts on minimum purchases. New brands are being added to the sale every day. Find premium brands going all out this black Friday including Natasha Denona, Jean Paul, Tarte, Dior, Pixi Beauty, Pat McGrath, and Sephora's in-house products.
Enjoy free delivery on orders over AED 250 with quick deliveries and easy returns. Find out more on Sephora.ae.
White Wednesday Sales at Centrepoint
Centrepoint has launched massive price drops in-store, online, and on the app to mark Black Friday Sales this November. The shopping extravaganza has already begun and will last till the end of the month. Grab exciting deals on women's fashion, kids' wear, and men's clothing and accessories with prices as low as AED5. Enjoy discounts on popular brands including Splash, Lee Cooper, Shoemart, Babyshop, Styli, Kappa, Guess, Skechers, and more.
Bag your favorite makeup products at up to 40% off and fragrances are available for as low as AED 5. Sounds too good to be true. Grab discounts of up to 80% with an extra 15% off for first-time users. Get free delivery on orders over AED200. Log on to Centrepoint or visit the stores to stock up on fashion essentials and accessories.
Sun and Sand Sports Sale
All you fitness enthusiasts out there can now grab sportswear and accessories at massive discounts rolled out for Black Friday this year. The popular sportswear stockiest Sun and Sands is offering jaw-dropping deals on sneakers, trainers, sweatshirts, jackets, bottles, supplements, and gym equipment. Enjoy discounts of up to 75% on popular brands including Nike, Reebok, Converse, Adidas, Skechers, Under Armour, and The North Face.
Flash deals are hitting the stores every day. Get an additional 30% discount when using the code "WHITE" at the checkout. It couldn't get better than this. Black Friday Sales are at their best at sun and sand sports this year. Stock up on your workout wear and gym clothes and pay for less. Get a 30% flat discount on your first three orders. Enjoy free deliveries and pay cash on delivery for a limited time.
Sivvi November Super Sale
The most awaited sale at the Sivvi is finally here. The online retail marketplace has launched November Super Sale with discounts of up to 90%. The store is offering 30 days of surprises with flash sales hitting the site every day. Update your wardrobe and hoard essential fashion supplies this festive season and pay only a fraction of the original costs. Shop luxury apparel, premium footwear, branded handbags, sportswear, accessories, home furnishings, makeup, skincare products, signature fragrances, and a lot more at discounted rates. Get ready to shell out your wallet!
Enjoy fast deliveries and free returns. Get an extra 20% off when placing your orders via the Sivvi app. Copy and paste Sivvi discount codes at checkout to further avail of price reductions on a wide selection of merchandise. What are you waiting for? Hurry up and shop before the sale ends.
Carrefour Friday Sales
UAE's most loved hypermarket is all set to get the ball rolling for Black Friday with sales starting from November 21st. The shopping fiesta will last for almost a week with grocery essentials, apparel, electronics, kitchen appliances, gadgets, fresh produce, and household must-haves going on a massive sale. Get ready to enjoy discounts of up to 75% on all categories including skincare, cosmetics, stationary, and toys.
The offers will be available online and in stores across the country. Witness an entire week packed with flash sales, half-price offers bank discounts, promo codes, and online exclusive deals to facilitate the consumers to the fullest.
Get deliveries as quickly as within 60 minutes with free shipment on orders over AED 100. Enjoy fast deliveries and free returns and re-order your supplies with just a click. Log on to Carrefour for the latest offers and promotions.
Amazing Offers at Sharaf DG
Now get your hands on your much-loved gadgets and electronics without having to pay hefty amounts. Sharaf DG is offering some amazing discounts and deals this November with sales set to commence from November 18 to December 4th. The two weeks shopping extravaganza will provide shoppers across the UAE a unique opportunity to purchase electric appliances, mobile phones, tablets, laptops, smartwatches, and household gadgets at much fewer rates. Buy accessories with up to 70% discount and enjoy maximum savings on entertainment, mobility, home, and kitchen products.
FAB Credit Card holders will get an extra 10% off on their total bills. The store will also pick out 51 winners who shop for more than AED 2,500 during the shopping festival. The winners will be selected via a raffle draw at the end of the promotion. Shop now at Sharaf DG and participate in the competition.
White Friday Offers at Damas
Gift your loved ones with the finest collections of jewelry items this festive season without burning a hole in your wallet. Shop with Damas and save money with their exciting white Friday deals. Enjoy 30% to 50% off on rings, bracelets, lockets, earrings, and charms. Choose from gold, diamonds, pearls, and precious stones, and craft your own intricate pieces.
Shop online or visit your nearest Damas store today to find pretty presents for those you love.
The Kids Friday Sale at FirstCry
The biggest Kids' sale of the year is finally here. FirstCry is launching a brilliant offer on November 20th with discounts of up to 90%. Get the early bird deal and save an extra AED100 on your online orders. The exclusive mega deals will offer consumers to shop for kids' apparel, shoes, feeding equipment, baby gear, nursery products, books, toys, stationary, and essential supplies at massive discounts.
Stand eligible for free products on November 20th at midnight. The first 150 customers will fill the cart for free. Yes, you read that right. It just couldn't get better than this.
Save big on brands including the children's place, Puma, Nike, Polo Ralph Lauren, Name it, Minoti, and a lot more. Hover to FirstCry for more updates.
Exclusive Mumz Friday Offers at Mumzworld
Shop all things baby and mothers, at Mumz World and save a good deal of money on your favorite products with exclusive Friday offers. The promotion has already begun and will last till December 5th. Enjoy mega deals on diapers, baby gear, skincare, feeding equipment, toys, apparel, shoes, books, mother essentials, and appliances.
Enjoy free deliveries and easy returns with flexible payment options. Apply Mumzworld coupons at checkout to further reduce the bill cost.
Super Friday Bargains at LULU Supermarket
UAE's popular hypermarket has launched exclusive bargains and mega discount deals to mark the Black Friday sales in the country. Shop for grocery must-haves, fresh produce, bakery items, poultry, meat, apparel, fragrances, and electronic appliances at the best affordable rates.
This is an ongoing promotion that will end on December 5th, 2022. Enjoy free deliveries on all orders over AED50. Get quick shipments and easy returns with easy payment options.
Shop online or visit your nearest LULU hypermarket to stock up on household must-haves and essential school supplies with incredible black Friday deals.
While every effort has been made to bring our readers authentic and legitimate information, the content in this blog post is subject to change at any time at the vendor's discretion. The retailers have every right to alter and include new terms and conditions for which the author and the website hold no responsibility. We advise you to visit the vendors' websites for the latest updates and information on the deals and offers mentioned in this article.
You may also like to read
13 Top Fashion Shopping Websites in the UAE
Apple Student Discount: Remarkable Savings for Scholars in UAE