UAE has long been a vocal advocate of sustainable initiatives and is pulling every cord possible to make sure that the nation helps in preserving Mother Nature.
The exciting fact is that as a resident you can now earn rewards and discounts for participating in recycling programs. What better than to indulge in sustainable activities and get rewarded in return?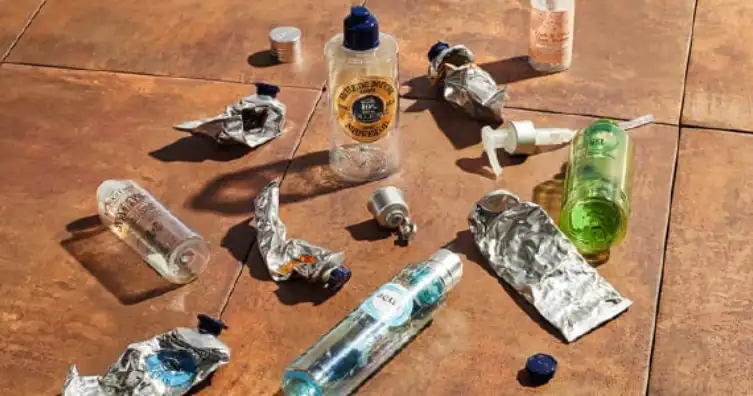 Let's find out how and where you can grab offers and discounts by returning recyclable stuff in UAE.
Return, Recycle, and Get Rewarded
A lot of brands in UAE are jumping on the bandwagon and launching recycling programs to benefit the customers and do their part in saving planet earth Here is a roundup of recycling programs operating in the UAE that allow you to participate and earn exciting rewards, gift vouchers, discounts, and cash.
Lush Cosmetics' bring it Back Recycling Program
The well-celebrated cosmetics and skincare brand Lush is now offering its patrons to return empty lush bottles and pots at any of the Lush stores located in UAE and get a refreshing face mask for free.
The recycling initiative called "Bring It Back" was launched in the year 2022 and is an attractive offer for customers who are fond of the luxury skincare range the brand has to offer. Save planet earth and get rewarded in return. Collect all your empty lush pots and rush to the store to get your face mask that too for free.
Besides this, you can earn AED 5 for every empty and clean lush bottle or pot that you return at the store. Collect and return bottles and accumulate free cash to be spent on vegan-friendly skin and hair care products.
RECAPP
The latest addition to the recycling programs functioning in UAE is RECAPP. The smart app is designed to help residents recycle all the waste at their homes with just a click. All the stuff will be picked up right from your doorstep and you will be awarded points redeemable for shopping and dining.
The recycling mobile application was first introduced in Abu Dhabi and later expanded its operations to Dubai. The platform makes sure the waste is collected from the doorstep without any costs involved.
The idea is to reinforce responsible and sustainable behavior and promote the concept of recycling among the masses. It helps people recycle unused stuff conveniently and aids in minimizing the amount of trash and waste that makes its way up to the landfills in the country.
Mai Dubai
The renowned bottled water manufacturer Mai Dubai has partnered with ZeLoop to provide customers with gifts, discount vouchers, and cash rewards for collecting and returning empty water bottles.
You can earn AED 1 for each bottle that you return to the company. Customers who return 22 empty plastic bottles will get an AED 22 discount on their next purchase of the Mai Dubai water.
To participate in the recycling initiative, download the ZeLoop app on your Apple or Android device. Sign up for a free account and find collection points near your area where you can drop the bottles.
Collect and return as much litter as you can and earn points that you can redeem for cash, discounts, and other monetary benefits.
Samsung Recycling Program
Samsung MENA rewards customers for promoting sustainable practices and doing their part to save the planet from pollutants. The Samsung Recycling Program is part of its environmental and social governance initiative.
With this program, you can return your old smartphones at any of the Samsung Service Centers located in UAE and get gift vouchers worth up to AED 300. The vouchers can be redeemed when purchasing a new Samsung device online from their official website.
If you have your old phones lying around in your cupboard for years, now is the time to give them a new life. Collect all unused phones, wipe off the data from the device and take them to your nearest Samsung Service Center. Fill in the recycling program form and drop your device in the collection box. Now scan the QR code and provide all the essential details. You will then get a gift voucher in an email that you can later use when purchasing a new Samsung device.
Free Bus rides
In an attempt to reduce waste and promote the use of public transport, residents of the capital can now receive free bus rides for returning empty plastic bottles.
In March 2022, the Integrated Transport Centre of the Department of Municipalities and Transport in Abu Dhabi introduced the "Points for Plastic: the Bus Tariff" recycling venture. The program motivates the residents in Abu Dhabi to receive points every time that deposit empty plastic bottles and containers.
You can earn 1 point worth 10 fils for every 600 ml plastic bottle that you drop in at the collection points. Earn 2 points worth 20 fils for larger empty bottles. The total earned amount is deducted from your next bus ride. You can transfer the earned points to your Hafilat Bus card and enjoy discounted bus rides.
There is a deposit point located at Abu Dhabi's central bus station but more will be opened soon in the future.
DGrade, UAE's renowned plastic recycling company recycles the bottles returned at the bus station to manufacture fashion accessories and T-shirts.
KISWA
Around 12 million tons of clothing are dumped at landfills in the country. Now that's quite a lot of waste. So next time when you pull up your socks to declutter your wardrobe, think of participating in a recycling program. It will help minimize the burden of waste on the environment and will reward you for engaging in sustainable behavior.
Kiswa, a new recycling service in UAE can now collect all your unwanted clothes from your doorstep without any cost. You will in return get AED 2 for every kilo of clothes that you donate. Not only clothes, you can also give away old shoes, toys, bed linen, accessories, and handbags and earn AED1 for every kilo you donate.
Besides cash, you can also receive discount coupons and gift vouchers to be redeemed at various retail outlets in the country.
All the donated stuff is recycled to make furniture and curtains that are either donated to some charity or exported abroad.
Visit kiswauae.com for more details
Earn Shopping Vouchers at Reverse Wending Machines
Residents in Dubai and Abu Dhabi can now dump old plastic bottles and unused stuff at deposit boxes and earn attractive gifts and rewards. The reverse vending machines called Cycled SmartBin at WTC Mall and YAS Mall in Abu Dhabi allow people to trade in their plastic bottles for shopping vouchers.
One plastic bottle is worth one point and for every 250 points, users can receive a gift voucher worth AED50. The shopping voucher can be used at any of the participating retail outlets and malls including Carrefour, Lulu Hypermarket, and Virgin Store.
Download the Cycled mobile app to scan the QR code on the reverse vending machine before you deposit the waste. After depositing, press the "Redeem Reward" option on the app to claim the gift voucher.
You can also exchange your points for Netflix subscriptions and gift cards. Quite exciting, isn't it?
L'Occitane Recycling Program
"Big Little Things" by L'Occitane is the brand's initiative to contribute to the betterment and well-being of planet earth. The recycling program aims at encouraging customers to participate in healthy habits and get rewarded in return.
L'Occitane has joined hands with local recycling companies to offer its patrons a rewarding program where they can return empty plastic bottles and pots and receive a 10% off on the next purchase.
All you need to do is visit any of the L'Occitane outlets in UAE and bring all your empty L'Occitane stuff for recycling. After the deposit, you will be entitled to a 10% discount on your total bill for any purchase you made on the day of the waste deposit. It's a win-win game for all.
You will play a part in bettering the environment and will enjoy an attractive discount on your favorite product at the same time.
What you are waiting for? Collect all those empty bottles and hop over to your nearest L'Occitane store.
Kiehl's Recycle and Be Rewarded Program
Kiehl's Middle East has also launched a rewarding recycling program for its loyal customers. You can now all your empty Kiehl's products and receive gifts from the brand. You will be rewarded with free goodies for returning the empty pots, containers, and plastic bottles.
One empty plastic container is worth one Stamp. You can collect 10 stamps and redeem them for a travel-size body lotion.
Only full-size empty Kiehl's products will get a stamp. Complimentary products, travel-size containers, and deluxe samples can be returned to the brand but they will not be eligible for a stamp.
You can use one card per month. One card is equal to 10 empty full-sized plastic bottles.