FIFA season is in full swing. Football enthusiasts in Dubai are on their toes as the World Cup 2022 finale is fast approaching. While a lot of top-notch cafes, bars, and restaurants are screening matches live for hefty amounts, there are some attractive fan zones and hotspots in the emirate where you can watch the tournament for free. The dedicated areas for live screening deliver a stadium kind of feel along with fun activities for families and people of all ages. Some of the spots are offering free entry and some others are only charging a minimal amount. You can also redeem the tickets for food and drinks at some attractions and enjoy value-for-money entertainment. Why pay more when you can catch the action live for free? Here is the list of popular free fan zones in Dubai where you can gather with friends and family and watch football matches without paying any fee.
Top Free Fan Zones in Dubai
Get ready to experience football fever like never before. Head over to these venues to watch the semifinals and Finale for free!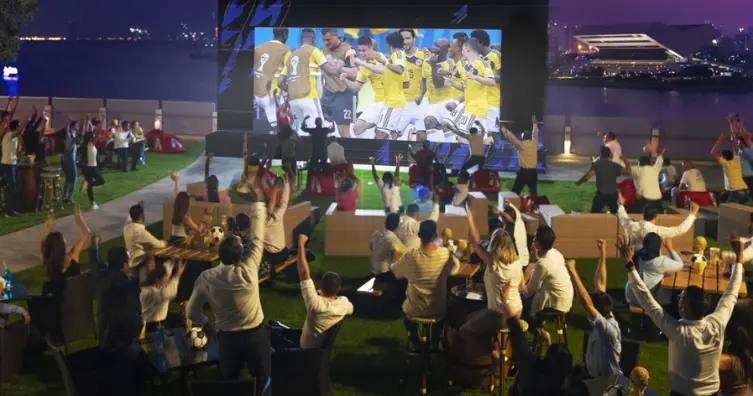 Barasti Fan Zone
Cheer your favorite team at one of the most popular entertainment destinations in Dubai. Enjoy thrilling semifinals at the attractive waterfront and catch up on the football matches live on huge screens. Barasti has gone all out with its dedicated fan zone for FIFA enthusiasts this World Cup. Head over to the vivacious hotspot and experience the best of FIFA with thousands of other diehard fans. Lively music, BBQ stations, interactive games, delectable snacks, and delicious beverages amplify the entire aura. Entry to the venue is free for everyone who is aged 21 years and above.
Pay for the food and drinks as you go and relish a lively atmosphere without breaking the bank.
Social Distrikt
Get ready for unlimited fun and entertainment at Social Distrikt and experience an extraordinaire gaming adventure. The popular food hall at The Pointe, Palm Jumeirah has set up 12 gigantic screens in its indoor and outdoor space to host a live screening of the football World Cup 2022 in partnership with ITP Live. Hundreds of fans gather every day at this lively hotspot with tons of entertainment options for everyone.
You can reserve tables in advance for which you would have to pay. Food and beverages are not free but you can watch the matches on screen without paying any fee.
Free Mega Fan Zone at Soho Garden
Catch up on live nail-biting FIFA World Cup 2022 matches at Soho Garden's Mega Fan Zone in Dubai. Entry to the venue is free where you can watch the upcoming semifinals and grand finale live on huge screens set up across the hotspot. There is a whole lot of entertainment and fun activities for families including VIP booths, picnic tables, thrilling competitions, and live music performances.
Dubai Digital Park
Have a time of your life with friends and loved ones at this incredible football screening attraction. Those who reside in Dubai Silicon Oasis and adjoining areas can now watch enthusiastic FIFA matches live from Qatar that too for free. The family-friendly fan zone at Dubai Digital Park has partnered up with Coca-Cola with accommodation for around 1000 fans. There is a huge stage, ample seating space, a standing area, and an interactive football village where tons of activities and games are set up daily for FIFA enthusiasts.
Stadium Lounge at the City Walk
The fan zone in Stadium Lounge at the City Walk is a place you shouldn't miss if you are eager to watch the matches live with enough buzz. The venue offers a one of its kind game day experience for people of all ages. Either watch the matches in their indoor area or choose to sit outdoors in a huge dedicated space with big screens. Besides the live screening, there are other family-friendly activities too that will keep your little ones occupied throughout.
The Football Deck at Belgian Café, Dubai Festival City
Watch live FIFA matches in Dubai for free at the Football Deck set up by Belgian Café in Dubai Festival City. Fans can gather at the popular pub to enjoy live streaming of World Cup 2022 matches including the finals. The buzzing fan zone is located at Crowne Plaza's outdoor terrace with stunning views of Dubai Creek.
The dedicated football viewing area also offers a range of interactive games and a painting station for the guests. Order away pints of hops and drinks to make the screening all the more exciting.
The Stadium at Irish Village
The Dubai Duty-Free Tennis Stadium has been turned into a huge Football fan zone to screen live FIFA matches from Qatar. The attraction will host live matches until December 18th and has set up two gigantic screens to broadcast the thrilling tournament.
Guests can choose to sit in the dedicated seating space or cheer for their favorite team while standing with friends in the special zone across the court.
Order savory snacks from The Irish Village and enjoy live musical performances by DJs. The massive venue is perfect to view the screening of the FIFA World Cup 2022 Finale with friends and family. Entry to the hotspot is free but you would need to pay for the snacks and beverages.
No reservations are required and you can visit the attraction any day to view live football matches for free whilst the tournament lasts.
Disclaimer: This is not an exhaustive list and a lot of small-scale venues and restaurants have put up screens in their outdoor spaces to screen live FIFA 2022 screening. Details and information mentioned in this article are subject to change solely at the vendor's discretion for which the author and website hold no responsibility whatsoever.
You may also like to read
Best Legal Ways to Earn Passive Income in Dubai