The ICP Smart Services are a testament to the UAE's commitment to digital transformation. They not only enhance the quality of life for residents but also make the UAE an even more attractive destination for travelers and businesses.
With the integration of emerging technologies and a commitment to user-centric design, the ICP Smart Services are poised to continue revolutionizing how individuals and businesses interact with government services in the UAE. Let's get going and see how ICP can transform how we interact with governmental entities in the UAE.
ICP Smart Services in UAE
Federal Authority for Identity, Citizenship, Customs, and Port Security has launched a set of digital services designed to enhance and streamline various processes related to identity, visas, residency, and more for both residents and visitors in the UAE.
Not only this, but businesses and entrepreneurs can also apply for a license online and manage sponsored visas for their workforce with great ease and convenience.
Formerly known as ICA and currently termed ICP Smart Services, these services are part of the UAE government's broader efforts to modernize and digitize various aspects of public administration.
Besides the online portal, The ICP Mobile App provides a convenient way to access a wide range of government services on mobile devices. This app allows users to apply for entry permits, renew residency visas, and check their visa and Emirates ID status.
The ICA now operates as ICP Smart services and can be accessed online by logging on to icp.gov.ae.
What are ICP Smart Services? Who are they designed for?
As mentioned earlier, the ICP Smart Services offer a centralized platform for UAE citizens and foreigners to access various governmental services.
UAE residents and visitors can utilize various digitalized services from the comfort of their homes, including visa inquiries, residence permit inquiries, fee and fines payments, and personal information updates.
ICP Smart Services offers a centralized digital portal through which individuals and businesses can access various services, making multiple government transactions faster, more convenient, and readily accessible.
These services can be accessed through Smart Channels and E-services, providing a 24/7 gateway to a seamless experience. The online portal caters to specific categories, providing a range of services mentioned below:
Citizens: Individual citizens can sort out queries related to their citizenship, including passport services, family book services, and Emirates ID services. They can also access services for their sponsored individuals residing in the Emirates.
UAE Residents: UAE residents can apply for essential ICA services, including visa, residency, and Emirates ID services, both for themselves and their sponsors.
GCC Citizens: GCC citizens can access and utilize services related to their sponsors and services associated with Emirates ID.
GCC Residents: GCC residents can utilize services related to entry visas for UAE and manage visas once they are issued.
Visitors: Visitors can apply for services related to UAE visit visas and manage essential functions once the visa is issued
Latest Digitalized Services Launched by ICP UAE
Furthermore, the ICP has introduced a range of updates to enhance its intelligent services for citizens, residents, and visitors. These latest updates and digitalized innovative services include:
Introducing a one-time 30-day visa extension service for 90-day visit visa holders.
Implementing a new policy that restricts renewal applications for residence permits with a validity of more than six months.
Allowing visa changes and cancellations for GCC citizens registered without an Emirates ID.
Extending visit visas for relatives or friends on single or multiple trips for 30, 60, or 90 days and allowing the extension for the pre-entry validity of visas.
Providing visa holders the ability to print visa and residence details in their accounts.
Add the PRAN NUMBER (reference number for identity requests) to financial receipts and discontinue delegate services, facilities' fund services, and related features and verification mechanisms.
Introducing an AED 100 wise service fee following approved conditions.
Issuing residence permits for individuals outside the UAE for more than six months.
Granting long-term visas to family groups visiting the UAE for tourism, treatment, or accompanying a patient for 60 days and 180 days for single or multiple trips.
ICP Smart Services launched for individuals with disabilities:
Exempting UAE citizens with disabilities from the fingerprint requirement when applying for passport issuance, renewal, and replacement.
Offering an exception service from Emirates ID procedures, including fingerprints and ICAO, in individual accounts in the E-Channel.
Waiving charges for individuals with disabilities.
Exempting individuals with disabilities from the financial guarantee to open a sponsorship file and provide a fee recovery service for this category.
Amending residency data for twins with specific occupation-related residency types.
All the services are designed to be easily accessible in the accounts of individuals and establishments, making it more convenient for everyone to access these intelligent services
All the services mentioned above and facilities can be accessed easily online through the official website of the Federal Authority of Identity and Citizenship or via mobile apps available for both IOS and Android.
Latest Updates and News on ICP Smart Services in UAE
The Federal Authority for Identity, Citizenship, Customs, and Port Security (ICP) has officially ceased using the e-Dirham payment system for collecting service fees. The discontinuation came into effect on the 14th of November, 2022, and aligns with the Ministry of Finance program of launching new and advanced payment methods.
With the e-Dirham system now deactivated, the ministry is actively promoting utilizing approved alternative payment methods within the UAE. These methods include Visa, MasterCard, Google Pay, and Apple Pay services, offering greater flexibility and convenience for paying service fees.
Primary Services Available at ICP 
You can benefit from several innovative public services available at ICP. The portal offers some of the most popular services to help UAE citizens, residents, and visitors inquire about, amend, and update changes under their Emirates ID and Visa.
Check and Pay Overstay Fines
After your UAE visit visa or residency permit has expired and you are over the grace period, you will have to pay the due overstay fines to be able to revisit the country without any penalty. Overstay fines are priced at AED 50 per day after the expiration of the grace period.
To check and pay the overstay fines in UAE, you may follow the steps mentioned below:
Log on to the official ICP website.
Hover to the "Public Services" tab.
Choose the "Pay Fines" option and click the "Start Service" button.
Provide all the required information
Check the "Captcha" box when it pops on the screen.
Click the "search" button, and the screen will list all pending fines registered under your account.
You can pay the fines on the website or app or visit the nearest customer services center to pay in person.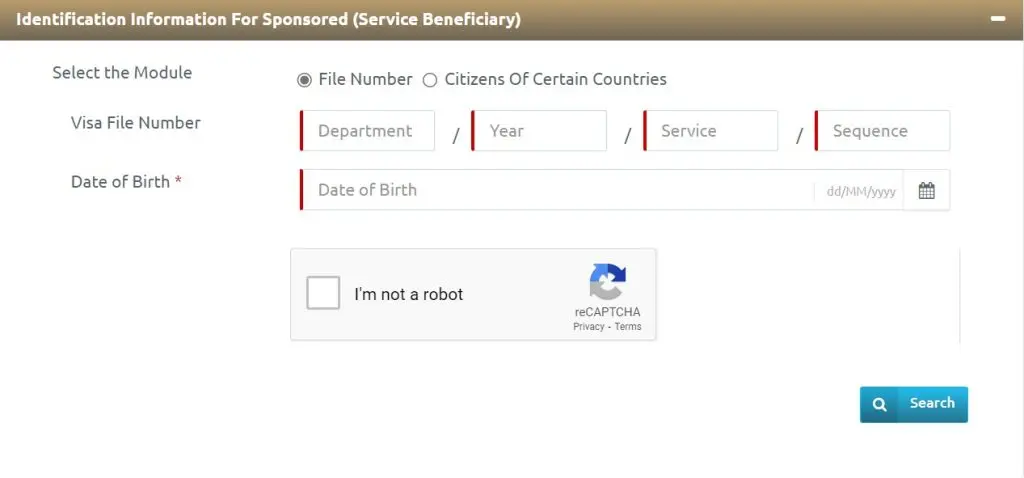 Check Visa Overstay Fines with Visa/File Number
Alternatively, you can check fines using your Visa and file number and pay the penalties seamlessly from the comfort of your home.
To check fines using your visa/file number through ICA Smart services, follow the steps mentioned below:
Log on to the ICP Smart Services official portal, log in to your account, and hover to the Fine Services section.
Enter your visa and department number in the "file number" tab.
Provide your birth date and check the CAPTCHA box.
Now click search, and the screen will display all pending fines registered under your visa number.
Check the Status of your Application
To check the status of your applications, whether for visa renewal, Emirate ID card issuance, card replacement, or information change in your account, you can visit the ICP online portal and provide your PRAN/application number or Emirates ID number.
For assistance and inquiries, you can also contact a customer services representative at 600-522222
Check Visa Validity
Those with an Abu Dhabi, Sharjah, Ajman, Ras Al Khaimah, Fujairah, or Umm Al Quwain Visa can check and inquire about their visa validity online through ICP Smart services.
Log on to the ICP Smart Services online portal.
Sign in with your registered account.
Choose "passport information"
Select the "Residency/Visa" option
Provide your accurate passport number and passport expiry date.
Choose your nationality
Tick the CAPTCHA box, and click the "Search" button.
The screen will display all the relevant information about your Visa, including the expiration date.
Dubai visa holders can check their Visa status through GDRFA.
Change and Update Personal Details through ICP Smart Services
If you'd like to change personal details associated with your Emirates ID, you can do so quickly through ICP Smart Services.
Following are some of the most common changes people make in their details, and you can do so online simply by logging on to the ICP Portal or through a dedicated Mobile Application.
Changing Mobile Number through ICP Smart Services
To change the mobile number associated with your Emirates ID, visit the ICA website and sign in with your registered account.
Once signed in, go to the Update Information
Fill in the details in the form and apply. A service of AED 52 will be deducted when using.
Your new mobile number will be updated within a day or two.
Change Details on Emirates ID through ICP Smart Services
To make amendments to your Emirates ID or to add new information, you can follow the steps below:
Log in to your account through the ICP website or mobile application.
No documents are required to update information on the Emirates ID
You can change your details online by providing relevant updated details on your national identity card issued by your home country and passport.
A service fee of AED 100 is charged for making changes and updating details in your Emirates ID.
Golden Visa Nomination through ICP Smart Services
All aspiring UAE residents who wish to apply for a Golden Visa can apply online through ICP Smart Services. The entire process is simple and quick. All candidates are required to provide essential details and documents.
You may log on to the ICP official website or download the app to apply on the go
Once logged in, hover to the "Public Services" section.
Choose the "Golden Visa Services" option and proceed.
Fill in the form by providing accurate details.
Scan and upload all the required documents and pay the fees
The services above are only some of the most frequently used services at ICP. The authority offers services dedicated to businesses, organizations, and visitors to access through their official website.
ICP Smart Services Center Locations and Mobile App
 All digitalized services launched by ICP can be accessed through the official ICP portal or via a dedicated mobile app available for Android and IOS.
For further assistance and in-person inquiries, you can visit any Customer Happiness Centers across the UAE in malls and governmental establishments. To find the nearest Happiness Center, you may click here.
Final Thoughts
In this age of digital empowerment, the ICP Smart Services represent a crucial step towards a future where government services are efficient and user-friendly, making the UAE a shining example of what can be achieved when tradition and technology converge.
Through these dedicated digitalized services, you can quickly change your Emirates ID, update personal information, check your visa status, renew residence permits, check and pay fines, and do much more to abide by state rules.
You might also like to read more about visas for UAE residents.