Mangroves, wooden loungers, thatched beach huts, hammocks, and clear turquoise waters. We aren't talking about the Maldives here but Kite Beach Centre in Umm al Quwain. The refreshing place has an absolute holiday vibe offering a ton of fun things to do with the family. Not known to many people, Umm Al Quwain is one of the seven emirates of the UAE. The small size city is known for its exotic resorts and beaches with Kite Beach being one of the most stunning and affordable of all.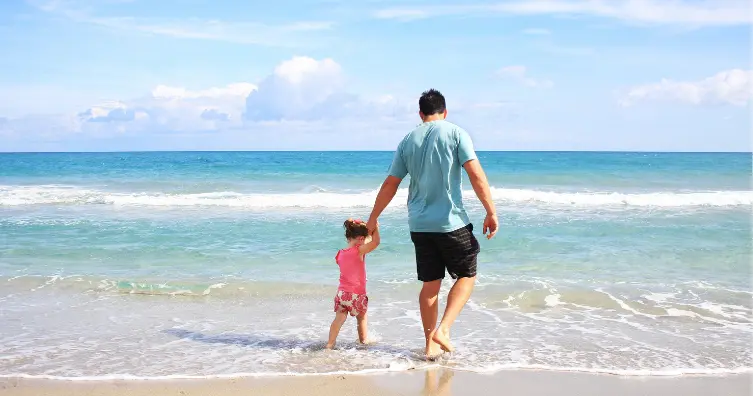 What about Umm Al Quwain?
Kite beach Centre Umm Al Quwain is undoubtedly a hidden treasure in the desert land of UAE. Shimmery sand beach, incredible waves for surfing, tree trunk swings along the shoreline, thatched double-story huts, interactive kids play area, a café, and bright kayaks parked at the beach set a perfect atmosphere for a fun-packed staycation for the whole family. Basically a kitesurfing institution, the location has gathered country-wide attraction because of its phenomenal natural displays and rustic details. Families with kids can rent beach huts or lay back on bean bags and sun beds to spend the day under the sun. You can rent out a beach hut for a maximum of eight hours priced at AED 250 on weekdays and AED 350 on weekends. There is plenty of seating available. Colourful wooden sun loungers placed under thatched umbrellas with remodelled homespun doors create a perfect backdrop for gram-worthy pictures.
To top it all off, you can further amplify the fun factor by kayaking at affordable rates. Book a kayak for as low as AED 75 per hour or indulge in other aquatic sports including kitesurfing, hydro-foiling, and water surfing. Older kids and teens can book lessons for water surfing for AED 100 per person and AED 150 for two. Kayak enthusiast kids aged 5 to 11 can book a guided mangrove kayak tour or stand-up paddle boating lesson with packages starting from AED 100. Fitness freaks can relish their time at the beach by popping over to the Tarzan Gym. It's an open-air fitness center with wooden machines to work out right on the sandy surface. Visitors can also book personal training classes under professional supervision. Live entertainment including DJ-led parties and musical galas are common on weekends. Beach is accessible to all public priced at AED 45 per person on weekdays and AED 75 on weekends. On weekdays, the ticket price for kids would cost AED 35 and on weekends it would cost AED 45 for all kids above 5 years of age. Kids under 5 go free on all days of the week. You can tag your pets along too with tickets for your furry ones priced at AED 75 per pet. Adorned with scenic views and fun-filled activities, Kite Beach can be your family's new favorite getaway spot.
The equivalent of the Maldives is a few hours away from Dubai at a discounted price. Find out additional deals here.