If you have been thinking recently about makeover of your apartment with those amazing smart home gadgets but couldn't get started as this sounds way too expensive. Let me tell you it isn't as expensive as it seems. The tech companies have been lately started producing an affordable range of their best smart home gadgets. Since the lockdown, many of us have become lazy enough that switching off the lights feels like a tiring task.
A smart home is definitely a part of the future technology that will change the way we live. Many residents in the UAE are upgrading their lifestyle by installing these products in their apartments. Just take a glimpse of your life after transforming your home. You can control your lights and the other appliances with a single touch, simply sitting on your couch if you want to add a smart thermostat that too can be controlled through your phone and offers you to set your desired temperature. Know who is coming towards your home even before they rang your doorbell by detecting them aforetime through the video doorbell is a must-go gadget.
We have compiled a list of the incredibly 8 best smart home devices in UAE for you that are economical and will make your life easy. Whatever gadget you are looking for, you will surely find it on the list and it will get the job done for you. Take a look and make your home smarter.
LED Smart Wi-Fi Bulb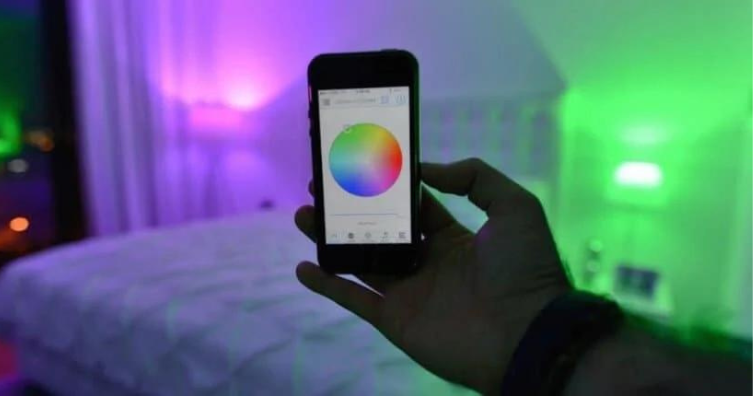 The LED smart bulb is revolutionary as it comes with incredible features that will lighten up your place perfectly in such a compact design. They can save 90% of the energy better than the traditional bulb in our home and can be connected to your phone over the smart life app. No matter wherever you are, you have control by touching your finger or through the voice command which works with Alexa.  You can change the color of lighting according to your mood at that moment and it does provide you with 8 colors. This sounds cool! Though these are the most affordable smart bulb on the market.
Smart Security Camera
Keep your home safe with the YI smart security camera at an economical price with all the high-quality features. It has a 1080p camera that gives you exceptional view in poor lighting and a world-class night vision. Artificial intelligence supports better human recognition and noise detection at that place and sends you a warning immediately when you notice anything unusual. You can view your home live whenever you are by the YI home app. This is beneficial for the working parents who can easily monitor the activities of their children.
Light Alarm Clock
If you are a deep sleeper, waking up in the morning must be a difficult task and you may often feel groggy after waking up. Well, this is due to the noisy traditional alarm clock beside you and you seriously need to switch to a smart light alarm clock. This is also referred to as the sunlight wake-up clock due to LED light present inside, which gradually brightens before alarm. It wakes you up gently with the cozy warm light. The touch sensor with a digital display of time and weather makes it unique. Set your sleep timer in line with the sleep cycle. This alarm clock will definitely not disappoint you.
Wi-Fi Smart Lock
This sounds like science fiction, but this smart Wi-Fi lock is the future. Just forgot to carry the bunch of keys to the door while leaving home. No need to worry, the convenient access to the home with Wi-Fi smart lock is still available to save your day. Use the feature comfortably to lock up the home wherever you are at that moment. You also don't need to install a new lock as this works perfectly with the previous one. The best part is the home becomes extra secure with the fingerprint ID.
Smart Life Plug
Automate your home with the addition of a smart Wi-Fi plug. This easily connects to the Wi-Fi and gives you control it over the smart life app. Its compatibility with Alexa and google home with the voice control feature makes it more interesting. If you don't feel like moving to turn it off, you can simply use the remote controls. The energy monitors have access to track the energy consumed by the device. Moreover, you can set the schedule for each device to turn it on or off at a particular time.
Honeywell Thermostat for Smart Homes
Ever returned home to a hotter place than you left? If so, the Honeywell thermostat is all you need to transform the home into a cooler place. The digital thermostat has an elegant style with great features. It helps you save energy with the energy-saving mode and even tracks the energy to give you an idea about the cost. Set your room at any temperature and let it auto-cool or heat. This is the best cost-friendly thermostat present.
Levoit Air Purifier
The air pollutants have been increasing around us and resulting in poor air quality. This air is very harmful to asthmatic patients and kids. Air purifiers are a must-have in the home to help you breathe better air. The efficient carbon filters inside it successfully remove tiny particles, pet hair, and dust. It notifies you every time before filtering and purifies the air four times every hour. The best indoor cleaning device to keep your environment healthy.
LED Indoor Garden
Now, no need to worry about less space in your apartment to have your garden. This is a great chance to own a garden and grow anything like plants, herbs, or even tomatoes all year round. It has a particular function of the LED light that helps plants to grow inside at a better rate. The bonus part is the LED light has the automatic control to switch on for 16 hours only and then switch off. The compact design it has will fit perfectly in your space.
You may also like to read
Apple iPhone 14: Tips to Grab the Best Deal in the UAE